Our Babysitters are non breeding fur kids who also are a huge part of our family and breeding program. These fur kids love to help babysit our new babies when they arrive and love teaching them social skills, how to play, and where they should potty. Our fur kids that we call babysitters are all spayed or neutered and no longer breeding or haven't been bred. All of our fur kids are a huge part of our family and our hearts.
Haas's Wild Alaska stole my heart from the day she entered this world. I named her Wild Alaska because she reminded me of some unknown animal that wasn't discovered yet in Alaska. Her name fits her well because of her looks and her attitude. She loves everyone but has to trust you first. Alaska has never been bred, she has been a heart baby from the beginning. This girl is one reason why I love the Merle's, they have such a devotion and attitude that I adore. Alaska loves to travel, go on hikes, swimming and kayaking. She also loves fast food, her favorite is Arby's roast beef and Dairy Queen's pup cups of vanilla ice cream with a dog biscuit on top. Alaska is also a Registered Service Dog. You can also see more pictures of Alaska in her photo album on our Photo Gallery Link.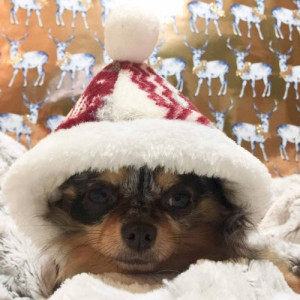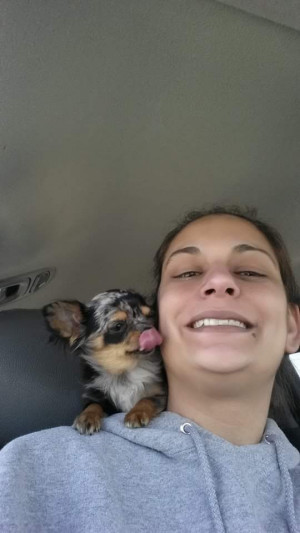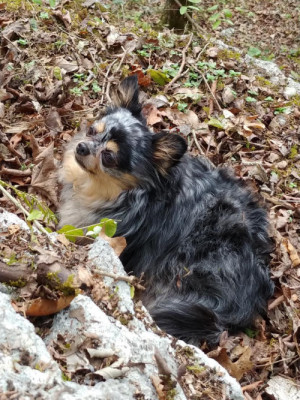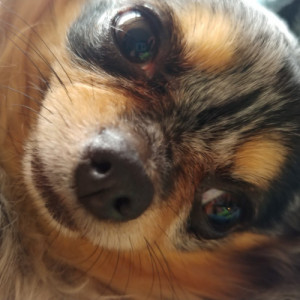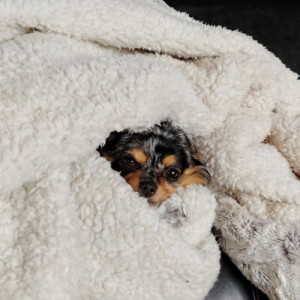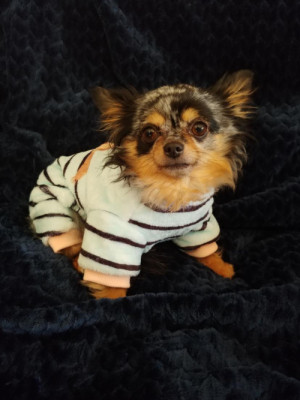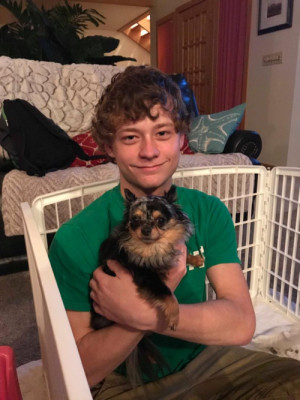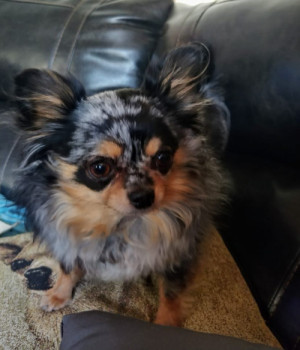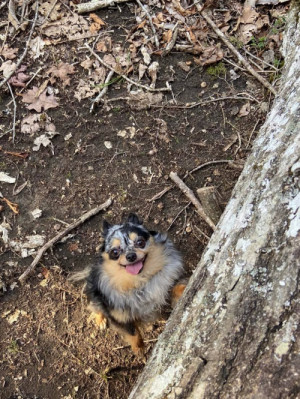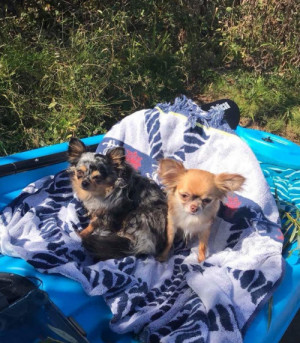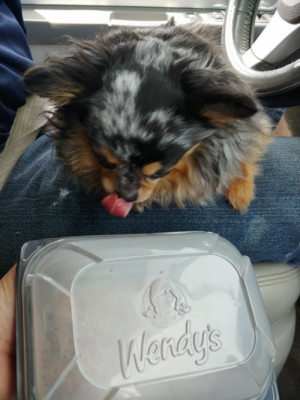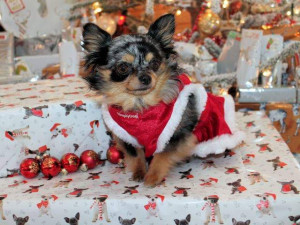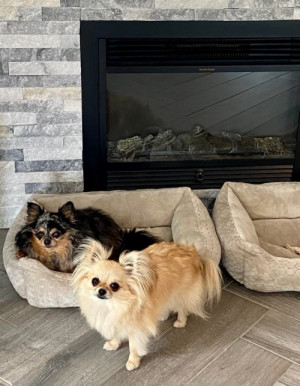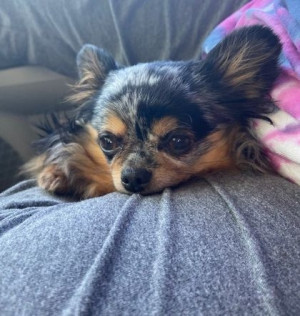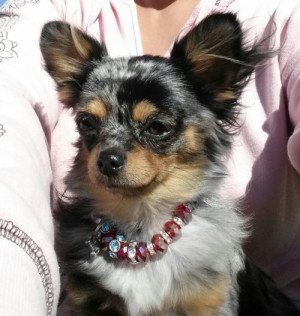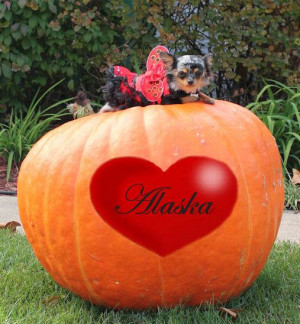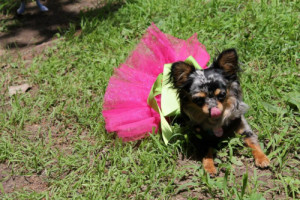 Haas's Not So Noddy is a Blond Sable at 3 lbs full grown, born 05-25-2018. Noddy has never been bred, she is spayed. She is the daughter of our Haas's Midnight In Paris & Grand Champion Heaven's Storm Of The Century Blizzard. As you can see from her baby pictures she was born a dark sable and turned into a little blonde as she matured. Noddy loves everyone and everyone loves her. Almost everyone who meets Noddy wants to take her home but, she's Noddy and they would bring her back lol. Noddy isn't afraid of anything, she loves to play, hike and most of all snuggle. If you come over for a visit, watch your purse, she's a thief. She loves playing with all of our Puppies but she's always the boss. Noddy has a huge part of my heart and the hearts of everyone who meets her.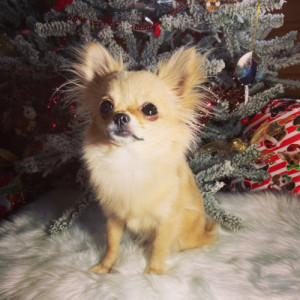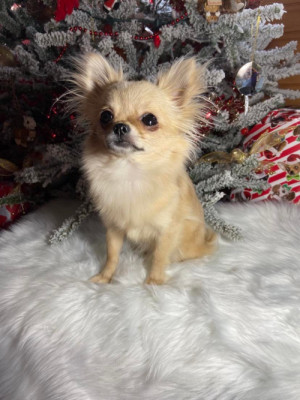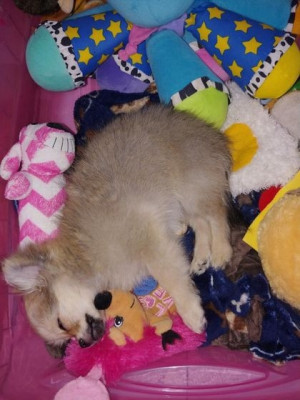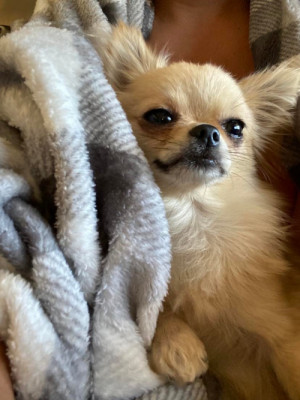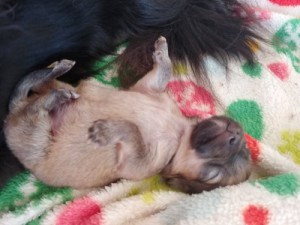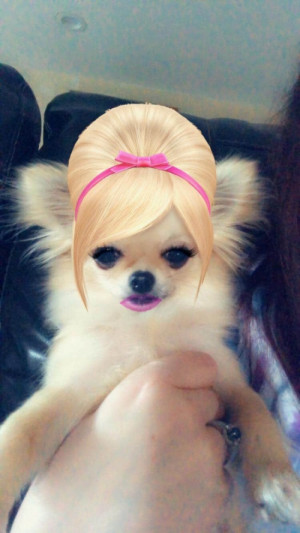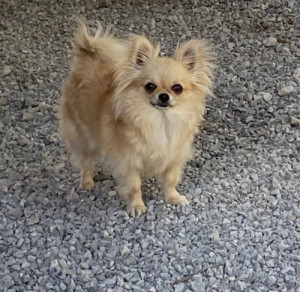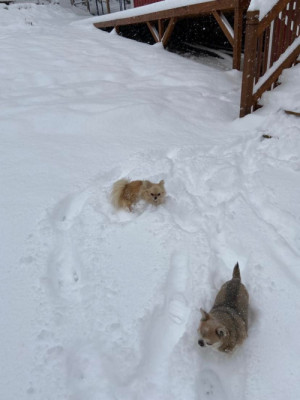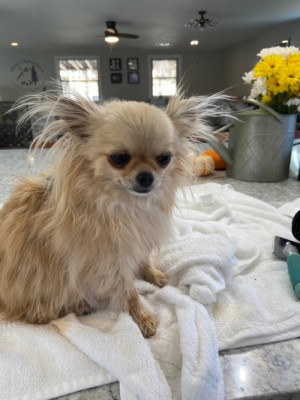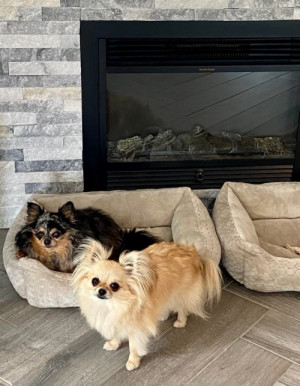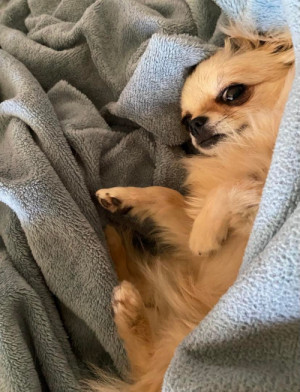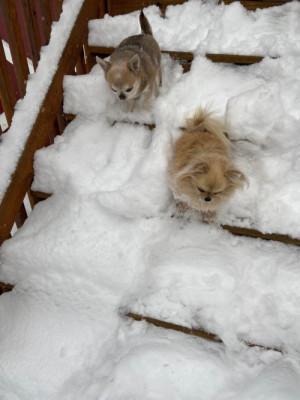 Haas's Midnight In Paris is a all black long coat, born 01-12-2013. She was bred once with our Grand Champion Heaven's Storm Of The Century Blizzard. They had one beautiful baby girl which most of you know as Noddy. Paris is super attached to my husband and my husband adores her, therefore we couldn't risk breeding her again. She is now spayed and loving life in my husbands lap. Paris loves to hike, kayak, swim, travel and snuggle. She will use anyone for their blankets. When we're hiking in the woods, I call her my black fox. Her favorite place is to be tucked in my husbands hoodie. She's a very sweet girl but will tell me when any of our fur kids or fur babies are getting into trouble. She loves everyone but defiantly prefers my husband. Paris is also a Registered Service Dog.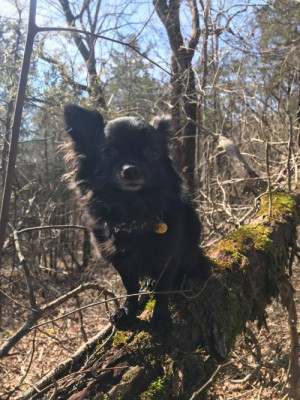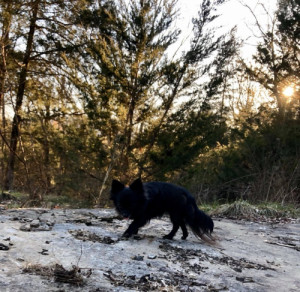 Haas's Maliblue Barbie Doll, is a gorgeous blue fawn born 10-14-2011. Her father is Grand Champion Samajoto's One N Only Knockout, her mother is Sungold's Jasmine Skye, both are amazing dogs. Mali is beyond amazing, she gave us some beautiful litters and now she is retired. Her legacy lives on through a few of her children. We still have her daughter, Roseland, look for their babies soon. She also has a few other exceptional children in wonderful breeding/showing homes. Mali has always been a favorite among many, she is the sweetest girl you'll ever meet. She grew up with my boys and she will do anything to please any human male, she is not above flirting either for their love. She is the most easy going lovable chihuahua you'll ever meet with the biggest best smile. She loves when new babies arrive even if they're not hers. She helps raise them, play with them, teach them social skills. We call her Grandma of all the babies. She will always be a huge part of our family.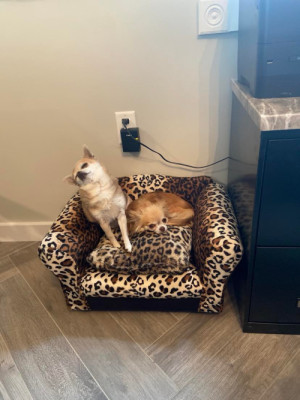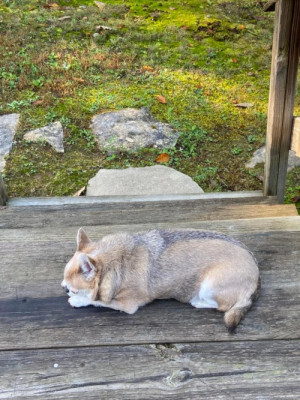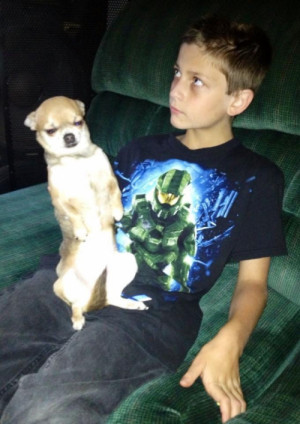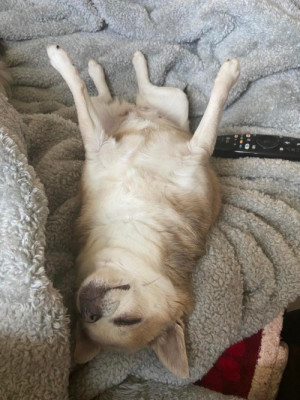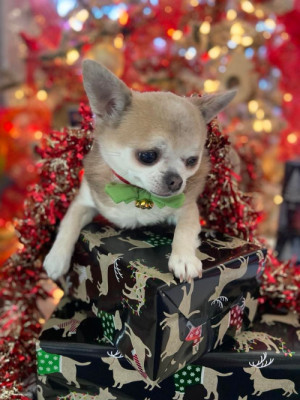 Haas's Lil Bit Of Faith, is a Fawn Spotted on White Hidden Merle born 07-10-2010. Faith aka Faffy is such a cutie and super sweet. She is one of my go to girls when I need a hiking buddy. Faith is adventuress and loves to hike, travel, boating, really anything as long as she's with her humans. Now in her senior years she has lost most of her teeth so her tongue sticks out which makes her even cuter. Faith has stolen a huge part of my heart and will always be one of my heart kids. She will live out the rest of her life here in the life of luxury being spoiled and loved daily. She gave us lots of beautiful babies including our beloved Alabama. Faith is now spayed and retired from breeding. Faith was always the best mom and always helped other mom's with their babies, she still loves looking after all the babies born here at Haas Chihuahuas.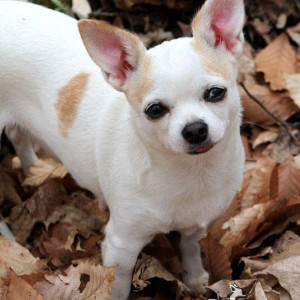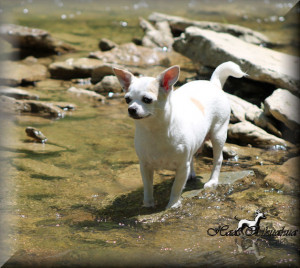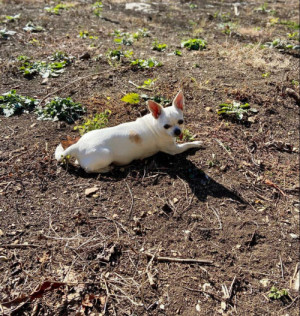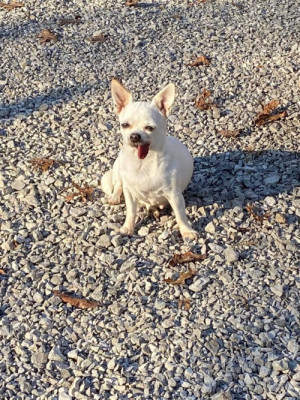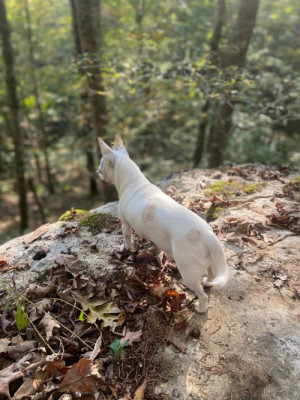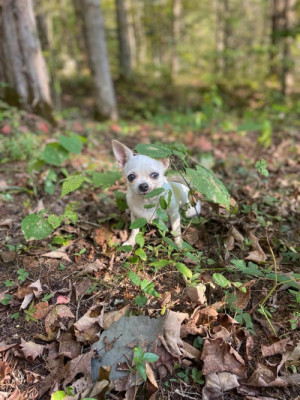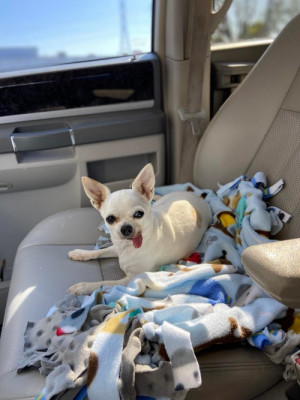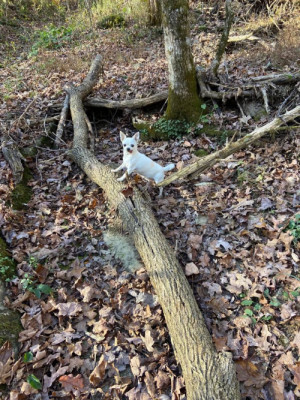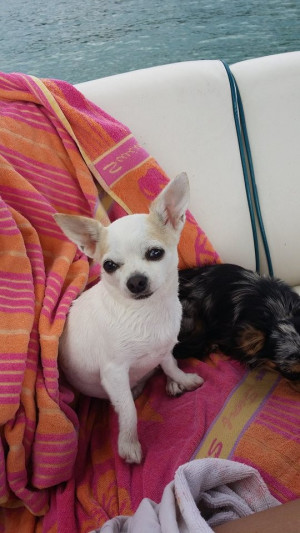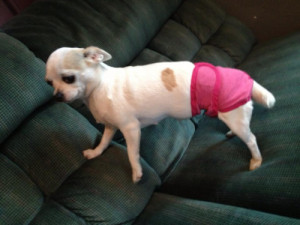 "Sungold's N Haas's Princess London" AKA Little Red Fox. Born 06-25-2016 We are very Blessed to have such a sweetheart in our lives. Our little Red Fox loves everyone and everything! She will make you love her and she will make every dog love her no matter what lol. She was my baby first but then my son has also taken her over and she follows him everywhere. Karter my son has huge plans to take her camping, fishing and hiking whenever possible. London's is a gorgeous Chocolate Sable Red Long Coat with her very unique chocolate mask and super cute chocolate nose. London's Sire is Cane River's-N-Sungolds Ace Archer coming from Amazing French lines. Click the link below to see London's Amazing Pedigree!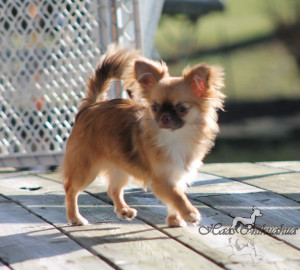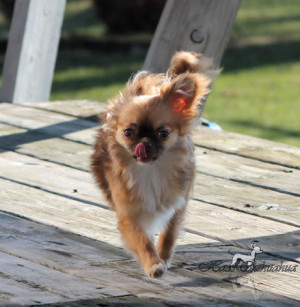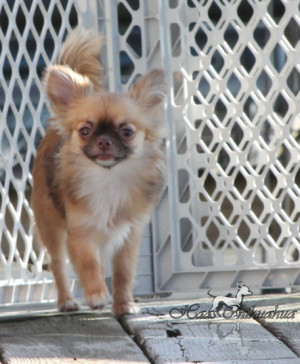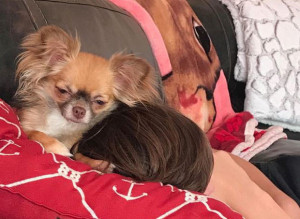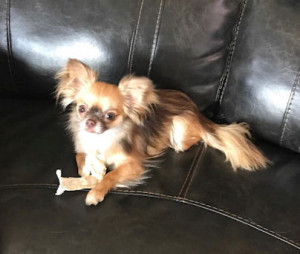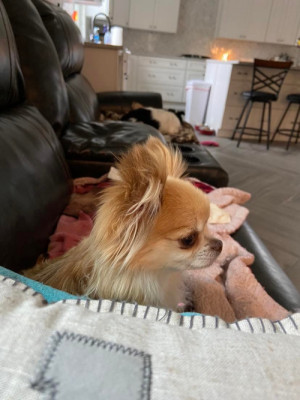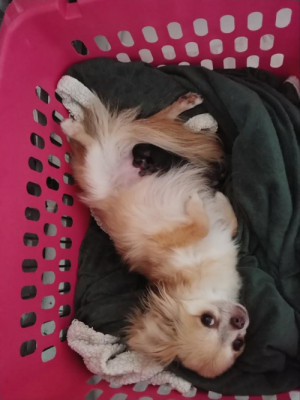 Haas's Rumor's Little Secret Whisper, Black Spotted on White, Born 06-09-2016. Whisper is one of my Grand-babies, born here at Haas Chihuahuas but owned by my oldest son Kristopher and his beautiful wife Katie. Whisper and her son Banjo are both my very loved Grand-babies. They both spend most days with me in the Dog Palace, Playing with our Fur Kids and having Snuggle time. They both are very adventurous, love just about anything we do, swimming, kayaking, hiking, or shopping, she's happy. Whisper loves keeping me warm, a blanket hog, and is a wonderful snuggle buddy. She in spayed after complications giving birth and is living a life of luxury.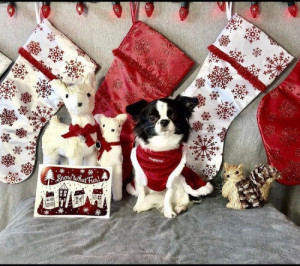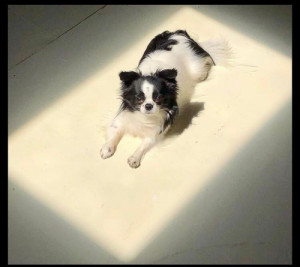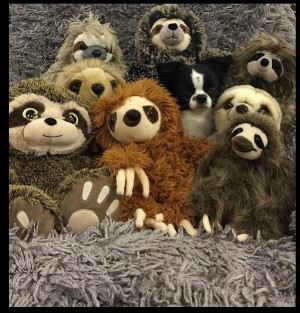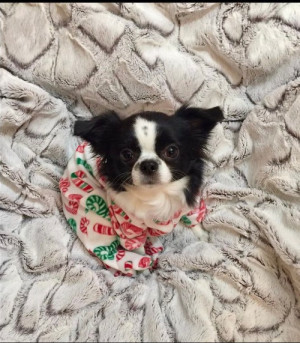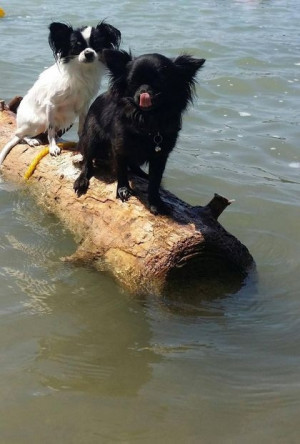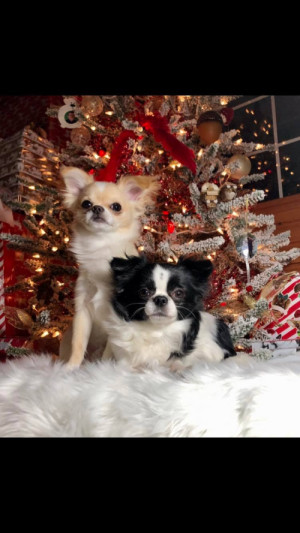 Haas's Banjo, Fawn w White Long Coat, Born 07-21-2019. Banjo is our Big Boy, he grew and grew because he needed more room for all the love he was given. He is the son of Whisper, her only baby and they're still very close. Banjo is belongs to my oldest son Kristopher and his wife Katie. He is very protective, active, and loving. He is Grandma's big boy and he enjoys spending his days with me in our dog palace, getting lots of love and being spoiled. He takes a minute to warm up to new people but once he does, he is super sweet. He loves to show everyone his bones. If he brings you a bone, you must tell him how pretty his bone is lol. He will also squeak his toy with his paw if you ask him to squeak it. Banjo is a super smart boy, he has never had an accident in the house. Goes to show if you get your male puppy neutered at the proper age and provide proper training, chihuahua boys can be the very best fur kids.