Our Handsome Royal Princes NOT FOR SALE AKC Registered
"Grand Champion Haas's Grand Master Yoda"
Yoda got his championship in the first two shows he was ever entered into at only 7 months old and 2.5 lbs. Yoda finished his Grand Championship by 9 months old. Such an amazing little boy, with a huge heart. Yoda loves everyone but especially himself lol he knows he's the bomb! Grand Champion Yoda has already produced some amazing very tiny little babies. Bred by Haas Chihuahuas.
Yoda's Sire is Grand Champion Heavens Storm Of The Century Blizzard
Yoda's Dam is Davishall's Lil Show Stopper Nina
Yoda's Full Sister is Grand Champion Haas's Majestic Black Opal
Click link below for Grand Champion Haas's Grand Master Yoda's Pedigree!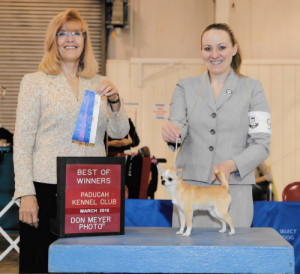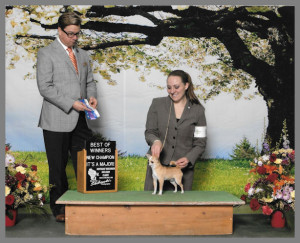 "Reed's N Haas's Chocolate Factory Charlie"
Charlie is a Chocolate Tri Long Coat Boy, 2 lbs he will stay tiny but has a little maturing to do still. I will add pictures as he grows. Charlie is "Social Media Famous" especially for his adorable eyebrows. He is such a sweet, loving boy with a Gremlin side when he doesn't get what he wants. Charlie loves to help with the laundry, mostly so he can steal the dryer sheets. We have waited years to add such a perfect boy to our breeding program and family. He is perfect show quality from his gorgeous apple head, perfect bite, perfect ears, and stunning little body.
Charlie has our breedings behind him including, Grand Champion Storm Of The Century Blizzard & Kings
Barbara Jean BJ. Hoping to get him in the show ring soon.
Click the link below for Charlie's Pedigree!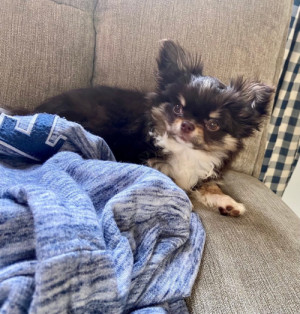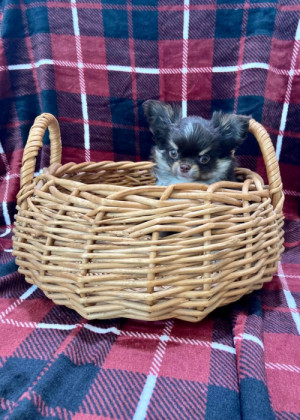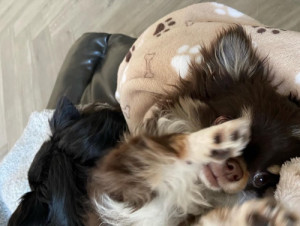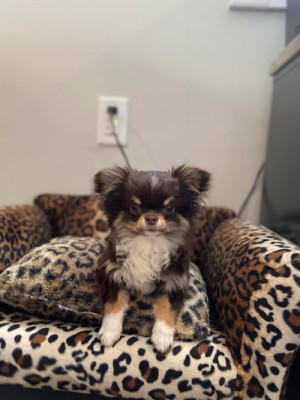 "Russian Eva's N Haas's Ocean Denim Blues"

Denim is a Fabulous Boy!! Blue w White Mrkgs Short Coat, Born 03-18-2017. We were hoping to show this amazing boy but due to Covid it wasn't possible!! Denim is an amazing show quality boy who has produce even more amazing pups. Denim is a very happy bouncy boy with a huge heart. He Loves to sit and snuggle with me on our porch swing, enjoying fresh air. Denim has the most beautiful Apple head and perfect chihuahua body. We are very excited to have such a wonderful boy with an amazing Russian Pedigree in our Family & Breeding Program.
Click the link below to see Denim's impressive Pedigree.
Grand Champion Heaven's Storm Of The Century Blizzard

This boy is sooo amazing it blows my mind! Blizzard is just a little baby doll, so sweet and just wants to be cuddled. He is also a ladies man! He came to us with over 50 grand champion point, almost a bronze. Rather then finish his Bronze, we decided he deserved to be a loved family member. He has already produced some amazing Grand Champion's. His lines include Champion's & Grand Champions from Heaven's, Sand-man's some Davishall, BK's and Schroeders. Sand-man's is one of the very best show breeders in the world, I feel very fortunate to have such an amazing boy in my family & breeding program.
Click the link below to see Blizzard's Amazing Pedigree!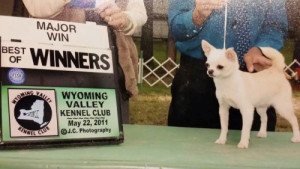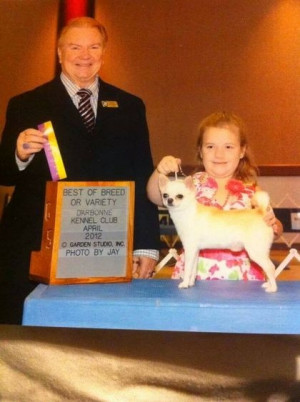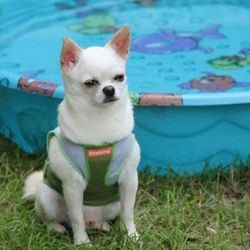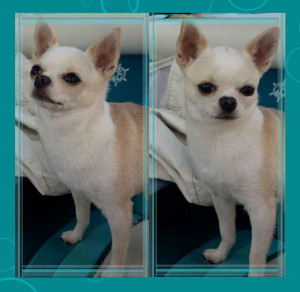 https://www.pedigreedex.com/pedigree/id-1534691
https://www.pedigreedex.com/pedigree/id-669141
https://www.pedigreedex.com/pedigree/id-669141